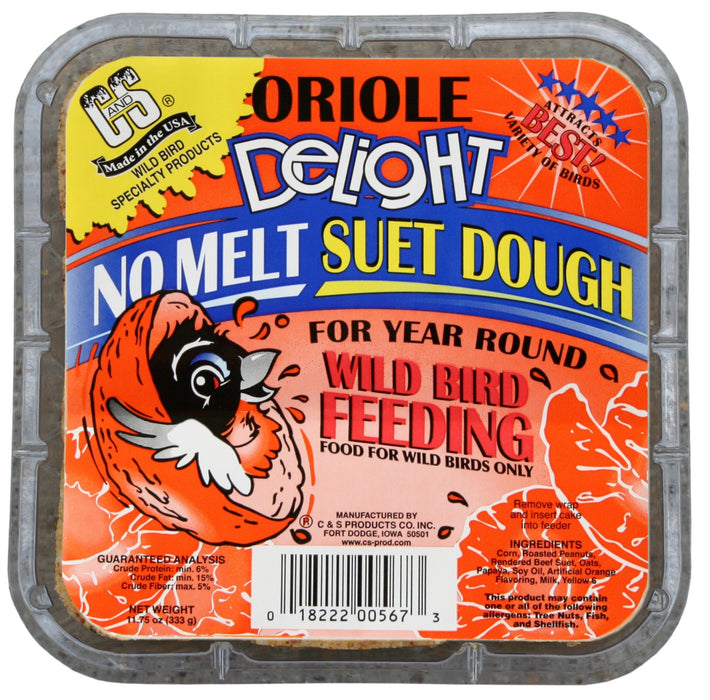 No melt suet dough
For year round wild bird feeding
Delights are mixed into a soft dough texture which is pressed into cake form
Attract orioles & fruit-loving birds to your yard
Features no-melt suet dough, perfect for warm weather feeding
Includes no filler ingredients
Orioles LOVE the orange flavor. Provide no-mess feeding for your orioles and other fruit-eating birds. Features the energy and calories birds need to forage, nest, migrate and more. Perfect for year-round feeding, these "Delight" cakes won't melt, even in the hot sun. Contains corn, roasted peanuts, rendered beef suet, oats, papaya and orange flavoring.
Wild Bird Suet is traditionally fed in vinyl - coated wire cages. They are inexpensive and durable. Wire dimensions vary depending on how starling or squirrel resistant you want your feeder to be. The cages, or baskets, hold from 1 - several C&S Suet Cakes or Bricks. The cages may be hung from branches, tree trunks, or hooks. There are also several designs available combining wire with wood or plastic. Remove plastic and insert into feeder.